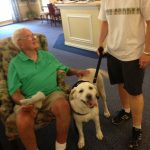 Masters Degree
Does your dog naturally show empathy toward people who are upset? Does your dog like to get affection from strangers? Do you like to volunteer and would love to take your dog too? Your dog might just meet the requirements to be a part of our Therapy Dogs Team! Your Therapy Dog will learn how to behave in hospitals, senior centers, and libraries.   This is such a rewarding experience not only for you but especially for your dog! The joy you bring to Children and Adults is truly priceless! Seeing your dog may be the only smile they get all day!
You will have a smile on a leash!
This program is also focused on common behavior issues you may be experiencing.
The team needs to know what is expected of them, therefore, the team will learn proper etiquette on entering rooms, what proper interactions look like, what to do when situations arise with the patients,
PLUS… 
Trick Training    
Therapy Dog Certificate
Canine Good Citizens Preparation (CGC)
 The CGC certificate is a nationally recognized sign that you are a responsible owner and your dog is well-mannered.
  <script>
fbq('track', 'ViewContent', {
value: 3.50,
currency: 'USD'
});
</script>